Beth Seibert for Allen County Commissioner
Conservative Republican Values
I seek the office of Allen County Commissioner because I believe that my established working relationship with the Commissioners, my unique and diverse set of experiences, as well as how I have established myself in this community as a trusted and respected leader, qualify me to be effective in that office very quickly – essentially able to hit the ground running. I truly admire how our three county commissioners work well together in an atmosphere of respect and trust. Over my career with the Allen Soil and Water Conservation District, I have had the privilege of working closely with the Allen County Commissioners. Since 2005, I have been the administrator of the EPA permit obligation they hold for urban stormwater communities. The commissioners have been an active partner in the work of the Ottawa River Coalition – the successful local community collaboration I have led for the past 26 years, and since 2011, I've been appointed by the commissioners to serve on the Local Emergency Planning Committee.
I have over 36 years of outstanding leadership and budget administration experience associated with county government, community and religious organizations, and nonprofits. Through the 3,000 Conservation Districts across the U.S., I have served in top leadership roles for Ohio, the north central regional states, and at the national level. I hold a professional certification in Municipal Stormwater Management and serve as Allen County's representative to Ohio EPA, defending our community in environmental matters. My business management skills and exceptional work ethic were born on our family farm operation and I've spent a lifetime involved in Allen County's largest industry – agriculture. I strongly believe that a voice for agriculture needs to be maintained in the Allen County Commissioner's office. I am in my eighth year as a highly engaged board member on the Lima Allen County Chamber of Commerce – which serves nearly 900 local businesses and agencies. There is not another candidate in this race that will be more dedicated or work longer or harder for you as an Allen County Commissioner than I will.  I have a true passion for Allen County and am committed to serving all of our 102,000 citizens.
My Campaign Pledge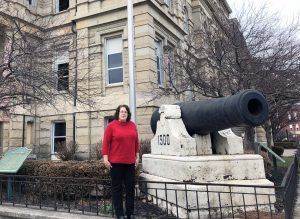 I will be a full-time County Commissioner, completely serving the requirements of the office and the citizens of Allen County.  That means I will continue to be fully engaged in our community, both professionally and personally.
I will endeavor to pursue what is right and good so that Allen County is the very best place for all of us to live, work, play and prosper.
I will defend Allen County against unnecessary intrusion of state and federal government, as I am doing in my current role as Allen SWCD Stormwater and Watershed Coordinator. On more than one occasion, I have successfully stood up for our community against the Ohio Environmental Protection Agency and their legal defense, the Ohio Attorney General's Office when the rules they are trying to impose make no sense.
I will seek to listen, learn and research all sides of any issue that come before the Board of Allen County Commissioners so that decisions can be made from the fullest possible body of information.
I believe that charity begins at home and that neighbors should help neighbors. My Christian faith grounds and centers me. I believe that it is my duty in this world to share my God-given talents and gifts with others and to be the shining light and example of Jesus Christ.
As your Allen County Commissioner I will be:
• Committed to serve as a Full-time County Commissioner
• Dedicated to defend against state and federal government mandates
• Devoted to business growth and preservation of personal rights
• Motivated to strive for efficiency in government through partnerships
I would appreciate your vote for Allen County Commissioner in the Republican Primary on March 17th.
My Business Experiences Were Developed at a Very Young Age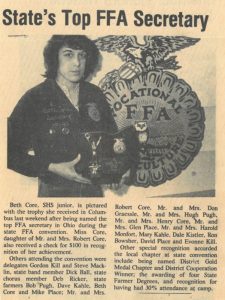 Since the age of 12, I have been personally involved in business enterprises with the express goal of success being measured in profitability and sustainability.  It all started as a 4-H project with one market steer sold through the Allen County Junior Fair livestock sale. But within five years I was managing a Future Farmers of America (FFA) occupational experience enterprise with 30 sows (adult female hogs), producing over 500 baby pigs annually that I fed out to market weight. At that young age, I learned by doing, that record management of the financial and physical assets of the operation was as important as the day to day care of those animals. This earned me the coveted State Farmer Degree at the youngest age possible – at a time when only 2% of FFA members in Ohio could receive this honor annually.
I would stand at the top of the awards platform of the Ohio FFA Association three more times before I was 18 for my hard work and dedication. I took top honors in 1980 for my Chapter Secretary's record book out of 315 chapters. In 1981 I took first place in the Accounting Proficiency Award for excellence in my overall project record keeping among 24,000 Ohio FFA members. And in that same year I was elected by the delegates of the state convention to serve an elite one-year term as the organization's State Reporter within a team of 14 officers.
For 21 years I was the bookkeeper for Seibert Farms with gross annual revenue of approximately $200,000. My husband, Bill Miron, has owned and operated his own business since 1994. And three of my four siblings, along with many close friends, own and operate their own private businesses.
I currently manage a $480,000 annual budget for stormwater and watershed programs within Allen SWCD.  Additionally, over my career I have been responsible for securing and administering over $1 million in grant funded projects.
For the past seven years I have served on the Lima Allen County Chamber of Commerce Board, which represents 887 member businesses.  The Chamber is the community's leading advocate and champion for business growth and success.  Over 84% of our members are small businesses with less than 50 employees.  And 54% of our member businesses have less than 10 employees.
I want to assure the citizens and business owners of Allen County that I fully understand and appreciate the challenges of business ownership, operation and success.  Our business managers are concerned with hiring and retaining a quality workforce, and being able to pay them a living wage while still turning a profit.  Securing and maintaining an adequate customer base or market share for their products or services are equally challenging issues.  And business expansion, capital improvements, keeping up with technology, and succession plans are among other ongoing concerns.  Personally, I am a huge believer in buying local and supporting local businesses with our purchases.